Karaoke Package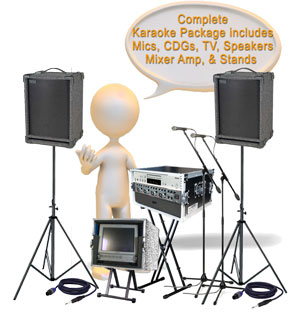 This popular package is suitable for professional and domestic use. It features a flightcased 14" colour monitor, a further flight case housing the Denon CDG player, the mixer amplifier, and a useful draw. This holds the request slips, and the all important track listings booklets.
Also included is a pair of Deltec SX2 225W 1x12"+HF Speakers, on tripod stands. 2 Mics, Shure SM58s, are included, along with mic stands.
The supplied CDg discs cover pretty much all popular karaoke tracks from Elvis to the Spice Girls, check out the track listings below!
Colour TV Monitor & Stand
Denon CDG Player
2 Shure Microphones With Stands
Carlsbro 120 W Mixer Amp With Reverb
A Pair of 225W Speakers With Stands
Over 450 Popular tracks Included
Order Code - Karaoke Package
Price: £ 99 inc VAT
Refundable Deposit: £275
Wiring Guide - Coming Soon
Book any of our sound system packages, and get 10% off the price of any lighting equipment you hire!!