iPod Party Package 1 - Just £99 inc VAT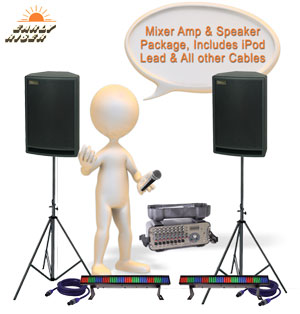 This system is designed to accept an input from your iPod or laptop, and includes a mic for those important words, "the bar is now open".
It includes a SoundCraft GigRack600, 2x300W RMS mixer/amplifier, a pair of Deltec MX3 (400W RMS, 1x12" + Compression Driver) Speakers, tripod stands, and all leads, including the lead from your iPod or laptop headphone-out-socket.
We use a special lead for laptop connection, which eradicates the background hissy/crackly noises created by some laptop power supplies.
Also included is a twin Colourstrip Mini LED lighting package.
Normal Prices:
iPod Pack 2 - £79 inc VAT
ColourStrip Mini Pack - £39 inc VAT
Total £118 inc VAT
Offer Price - £99 inc VAT
You save £19!!
SoundCraft GigRack Mixer Amplifier
2 x Deltec MX3 Speakers
2 x Speaker Tripod Stands
2 x ColorStrip Minis LED Effects
Corded Microphone
All leads for full operation
Order Code - iPod Party Package 1
Price: £ 99 inc VAT
Refundable Deposit: £200
Wiring Guide - Coming Soon