Ex Hire Equipment For Sale - Added March 25, 2013
After migrating to QSC RMX series amplifiers for hire, we have some ex hire amps available.
First up, a Carlsbro CPX600 Stereo Power Amplifier. It was flight cased through out its time on hire, and has been regularly serviced. It offers 2x300W RMS at 4 Ohm, is fan cooled, features a DSL system to help prevent clip, and is a nice sounding piece of equipment. This has jack and XLR inputs, and we modified it to feature Speakon outputs (wired 1+ +ve,1- -ve).
Originally sold for £479, Last one left, £179 inc VAT


Next, two PSS500 stereo power amps, 2x250W RMS at 4 Ohm. Again, in good condition, thanks to being flight cased whilst on hire. XLR in+link, Speakon output. Fan cooled.
Originally sold for £399 each, 2 available, at £159 inc VAT, each.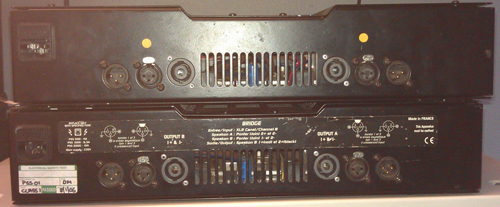 All amps have no known defects, and have been serviced prior to offering them for sale. Sold as seen, but we are more than happy to demo these in the shop. Feel free to pop in and have a listen!